Photo Tour: Packaging for Export
Our Steps to Prepare a Shipment for Export
A major manufacturer of semiconductor processing equipment based in Massachusetts was preparing to ship a piece of equipment to Malaysia. They have an in-house shipping department, but because of the size, value, fragility, and clean room requirements of this equipment, they decided to contract CDC Packaging to prepare their shipment for export.
This equipment was anything but ordinary. Not only was it sensitive to shock, vibration, and moisture, but it was impossible to secure using traditional methods. See how we handled the full complement of clean room and protective packaging requirements for this shipment!
Step 1: Load equipment on skid.
We loaded the equipment onto a heavy-duty skid. (We can use your forklift or ours.) At least one member of every packaging team is forklift trained and certified.
Step 2: Secure the package.
Steel strapping and wood blocking work well to secure many types of equipment, but in this case, CDC Packaging went one better. We used our metal fabricating equipment to manufacture custom shipping brackets.
Having the capability to custom-design brackets gives us the creative freedom to design your packaging around these "just right" brackets. This not only  helps ensure your package's safe arrival at your customer's site but, in most cases, will actually reduce your overall packaging time and costs.
Step 3: Add protective packaging.
CDC Packaging specializes in clean room packaging, so we can provide the proper materials and procedures to insure your product's packaging meets clean room requirements. We encased this customer's equipment in a plastic wrap to keep it free from particulate.
We also protected the equipment from shock and vibration with three strips of white polyethylene foam between the shipping base and the platform into which the shipping brackets were bolted in Step 2. (The type, density and amount of foam used is based upon proven engineering data that can be certified through testing if required.)
Step 4: Add a foil bag.
Because this equipment required protection from moisture, too, we packed it in a foil bag with desiccant. Then we evacuated all the excess air and heat-sealed the bag. This "vacuum pack" technique creates a vapor barrier that ensures that moisture-sensitive equipment arrives at its destination in perfect condition.
Step 5: Crate the equipment.
Our shipping crate will be your customer's first impression of the quality of your product, so we use only first-quality materials to craft our crates and skids.
Step 6: Label the crate.
We closely monitor changes to international packaging import regulations and update our practices, as necessary.
We label each crate with internationally-recognized shipping symbols, as well as shock and tilt indicators. These extra details demonstrate to your customer that you have taken every precaution to insure safe handling during transit.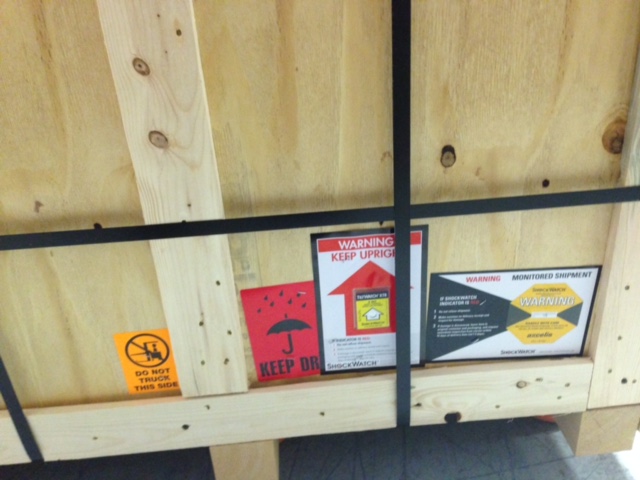 Step 7: Repeat for additional equipment.
This particular shipment to Malaysia actually contained 8 major components. Each module required a custom packaging design unique to that component's construction, size, weight, and fragility. So, we repeated the entire export packaging process for each large component, then tackled the smaller items.
We carefully packaged several miscellaneous items, including computer equipment, electronic and quartz assemblies, and spare parts, for transport. Each item was checked, cleaned, bagged, boxed and recorded onto a detailed crating list before being loaded into a consolidation crate.
By paying attention to the details, even on a project of this size, CDC Packaging earned a customer for life. This client has continued to contract with us for 10 years because, as this customer puts it:  "When CDC handles things, everything goes smooth."